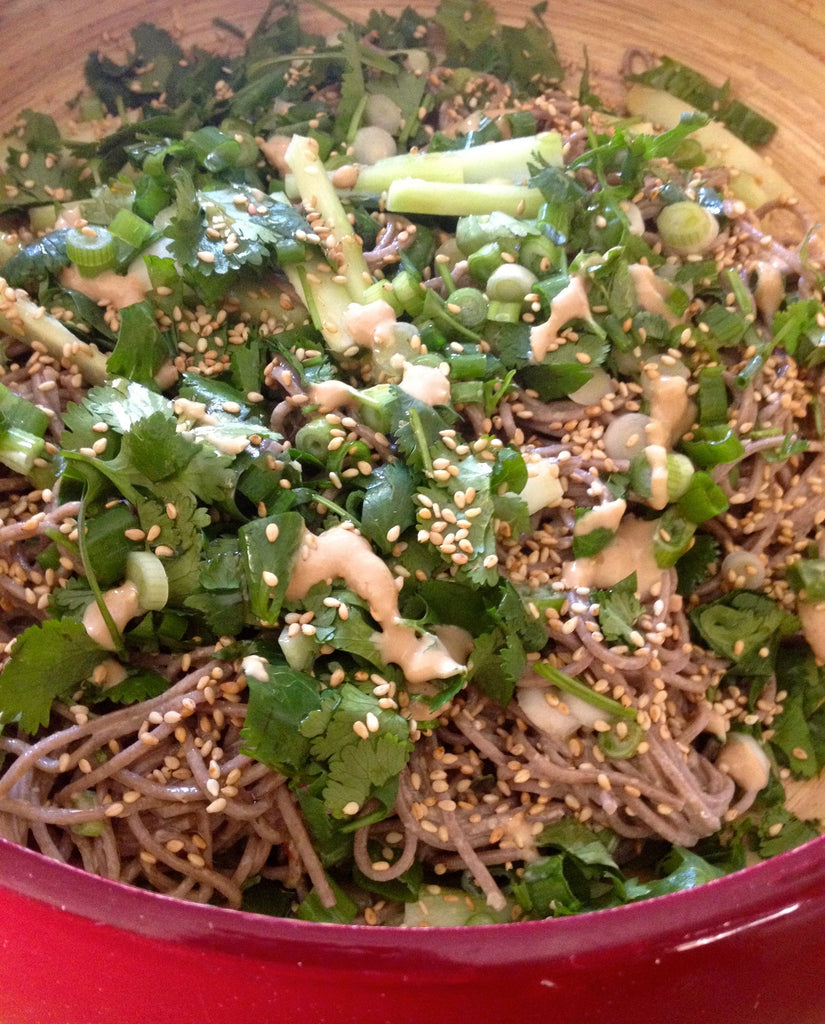 Sesame-Ginger and Cucumber Soba Noodles
Great recipe for the upcoming summer months! Refreshing, yet savory and filling. 
INGREDIENTS:
8 oz Soba Noodles (about 2 bundles)
1 large Cucumber
1 bunch Green Onions chopped
1/3 cup Tahini
2 tbsp Rice Vinegar
1 tbsp fresh grated Ginger
1 tbsp Miso
2 tsp Soy Sauce or Tamari
1 tsp Toasted Sesame Oil
handful fresh Cilantro chopped
pinch or more of Red Chili Pepper flakes
1/3-1/2 cup water
Sesame seeds for garnish
Sea salt to taste
INSTRUCTIONS:
Bring a large pot of salted water to boil and cook the soba noodles until al dente, according to package directions (do not overcook them!). Drain and rinse under cold water.
Use a knife to slice the cucumber into long, skinny strips. Throw out the inside seedy strips. Then, slice the remainder into 3-inch long strips.
In a small bowl, whisk together the tahini, rice vinegar, ginger, miso, tamari/soy sauce, sesame oil, cilantro and red pepper flakes. Once blended, whisk in water until you reach your desired consistency.
Toss the soba noodles in the sesame-ginger sauce (depending on how saucy you like your noodles, you may have some sauce left over). Toss in the cucumber strips, green onions, sesame seeds and extra cilantro if desired. Season to taste with salt or additional tamari until the flavors really sing. Serve immediately.
---
---
More from this collection